Fergie, "Blender Magazine" Woman of the Year
Yes, Stacy Ferguson is woman of the year. It's a music magazine — what did you expect, women who work toward eliminating global warming or world hunger? No, they chose a big girl who doesn't cry. Except she did cry during the interview with Blender when they told her she won. Heck, Fergie cried when she won the Teen Choice Award earlier this year! And she admits in the interview that she cries all the time, even when watching Nip/Tuck.
Fergie has had three excellent reasons to cry in 2007: "London Bridges," "Glamorous" and "Big Girls Don't Cry" were all Billboard No. 1 songs. And she had another two good reasons to cry with "Fergalicious" peaking at No. 2 and "Clumsy" at No. 5. And overall she has had one stupendous reason to shed a tear of joy, with The Dutchess debuting at No. 3 in September 2006 — and nearly one year to the day later the album was still No. 2. Whoa. That's so impressive, I need a tissue to dab my own eyes!
Stacey 'Fergie' Ferguson @ BLENDER Jan/Feb 2008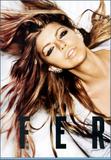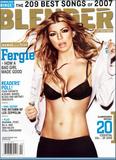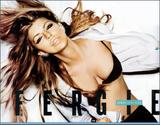 Labels: Blender Magazine, Fergie