Mariah Carey Does Glamour Magazine November 2007
Mariah Carey is the cover girl for the next issue of Glamour magazine, gearing up to promote her new fragrance and album.
Mariah looks absolutely amazing in her Glamour photos, and she talks about some issues that everyone is wondering about. Like who is she dating and would she ever marry again. Mariah says she doesn't even know what dating is and that she would like to marry someone if, she knew the person loved the real her or if she wanted to marry again.
Mariah Carey Glamour Magazine November 2007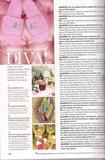 Labels: Glamour Magazine, Mariah Carey