Jessica Biel Tells Her Sexiest Problem To Elle Magazine
In the new issue of Elle Magazine, hitting stores Tuesday May 8th, Jessica tells about all of her "problems" including that being named the "Sexiest Woman in the World" is a lot tougher that it seems.
"I thought the Esquire cover was going to be really positive for my career. But it wasn't, really. [One director told me] 'I'm not looking for the sexiest woman; I'm looking for the girl next door.'"
Jessica Biel Elle Magazine Photos - June 2007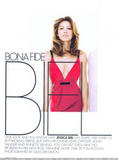 Pictures source:
Hollywoodbackwash
Labels: Elle Magazine, Jessica Biel